As an Amazon Associate I earn from qualifying purchases.
We're rejoicing over these recipes for 20 Dreamy Vegan Cheesecakes That We Just Can't Resist!  Vegan Cheesecake is a decadent treat and it can be baked or served no-bake/raw depending on the recipe.
Ah, cheesecake. That delicious creamy dessert that evokes nostalgia and reminds us of warm, cozy memories of family gatherings and holiday feasts. But what if we told you this decadence doesn't have to mean saying goodbye to your vegan lifestyle? That's right, you can still indulge in some delicious vegan cheesecakes that will satisfy your sweet tooth without the guilt.
Most Vegan cheesecakes are made with tofu, cashews, dairy-free cream cheese or dairy-free yogurt as the main ingredient.  As always, cheesecake is perfect for all occasions, so pin these for later, because sooner or later, you'll want to make one or all of these beauties!  Hopefully sooner? 🙂  So, don't resist – let's indulge!
This Chocolate Chip Cookie Vegan Cheesecake is so creamy even without dairy! It's a tofu cheesecake filling in a chocolate chip cookie crust.
Vanilla Bean Cheesecake is not just another cheesecake recipe. It's incredibly rich and decadent, with the perfect creamy cheesecake consistency! Topped with a white chocolate mousse and homemade whipped cream, this is hands down … the BEST Vanilla Bean Cheesecake you'll ever taste!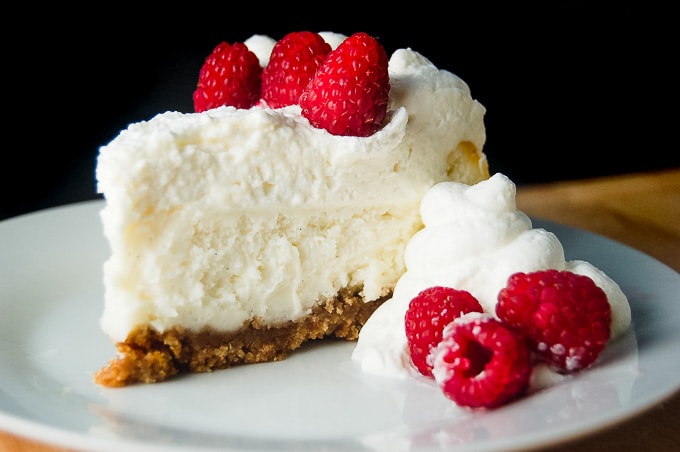 This vegan cheesecake is the best ever! It's rich and creamy and topped with a salted caramel fudge sauce. So much like the 'real thing' you will hardly believe it!
Who could say no to a cookie and cream cheesecake, especially when it's 100% plant-based? This no-bake cheesecake is super quick and easy to make and contains only a few 'easy to find' ingredients.
Learn how to make the best vegan cheesecake ever! No, really! This cheesecake is light, creamy and smooth with no dairy or nuts. Plus, it's easy to make and you don't need a high powered blender!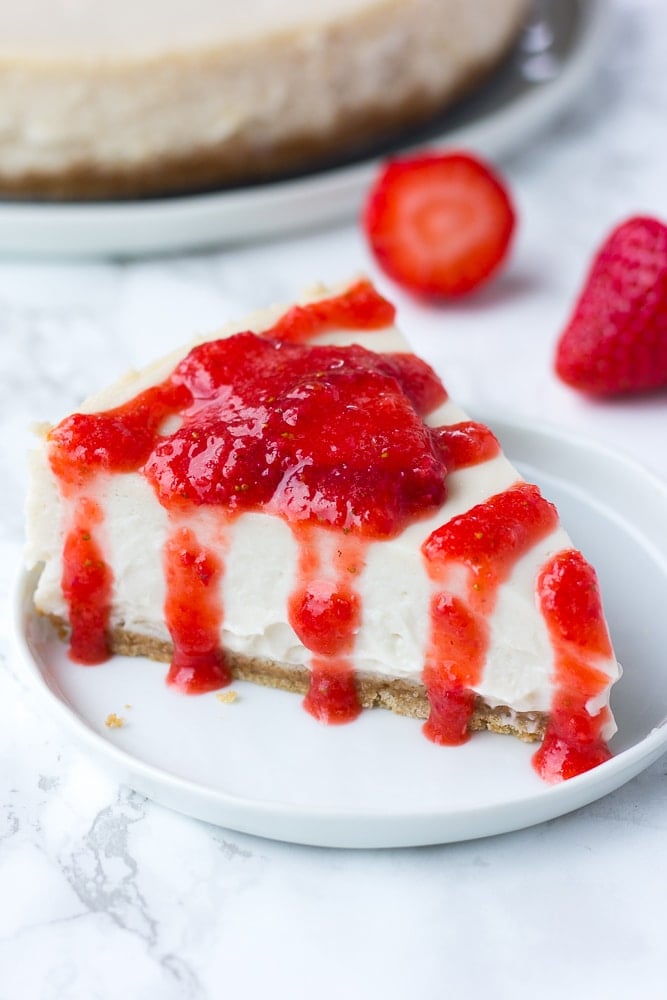 We love cheesecake but as we all know it's not the healthiest of things to eat but we don't like to sacrifice the taste either. That's why we decided to try out a no-bake mini vegan cheesecake, chocolate flavor of course. While you can do this in almost any flavor chocolate cheesecake is one of our absolute favorites. You'll be surprised at how delicious these taste and yes they taste like a rich cheesecake!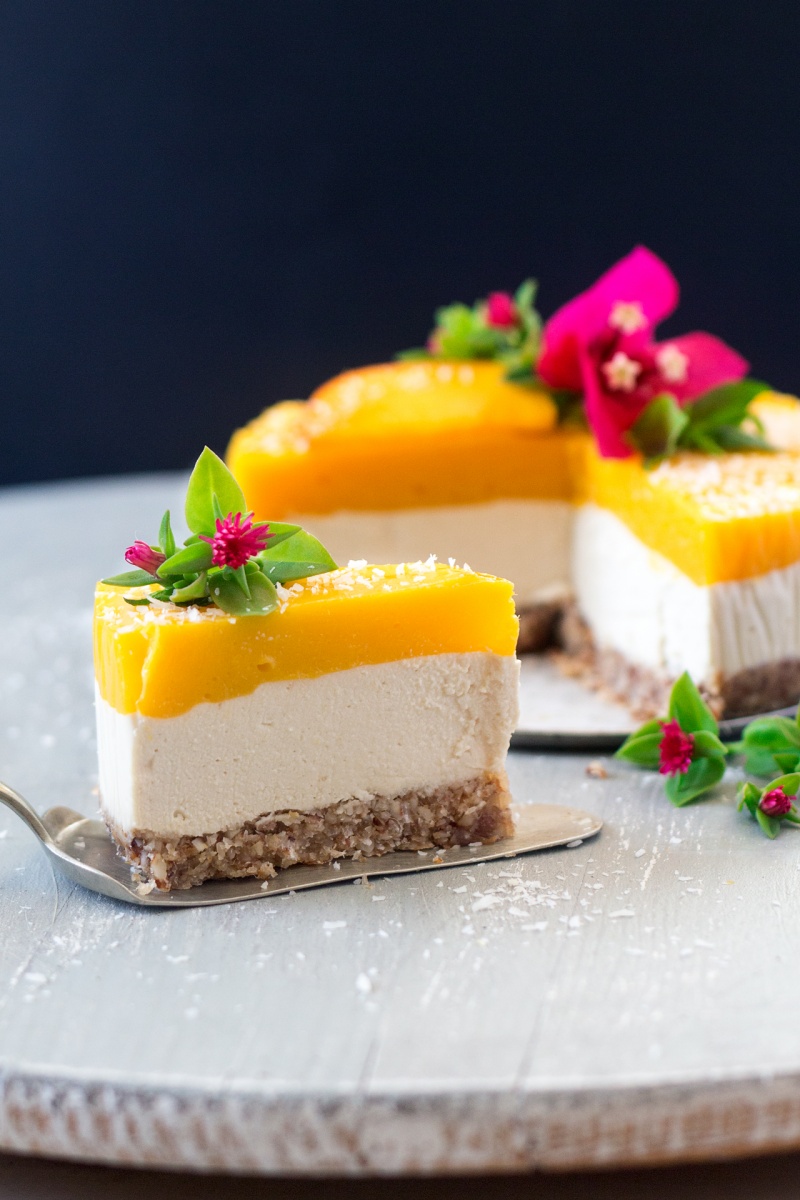 This no-bake chocolate pumpkin cashew cheesecake is a deliciously rich and creamy dessert for the holidays or any special occasion!  Two decadent vegan cheesecake layers are poured over a pecan, coconut and date crust and chilled to silky smooth perfection.  Paleo, vegan, dairy-free, gluten-free and family approved!

This White Chocolate Blueberry Cheesecake may just be my favorite one yet!

This is a Fig and Pistachio Vegan Cheesecake, topped with a vegan caramel sauce.
We've created a No Bake Vegan Lime Cheesecake that is luxuriously silky and delicious. It's also really easy to make, and so bright and beautiful if you garnish it with orange and lime zest and lime slices. It's the perfect cheesecake for Easter, Mother's Day, brunch, or any time you're in the mood for vegan cheesecake.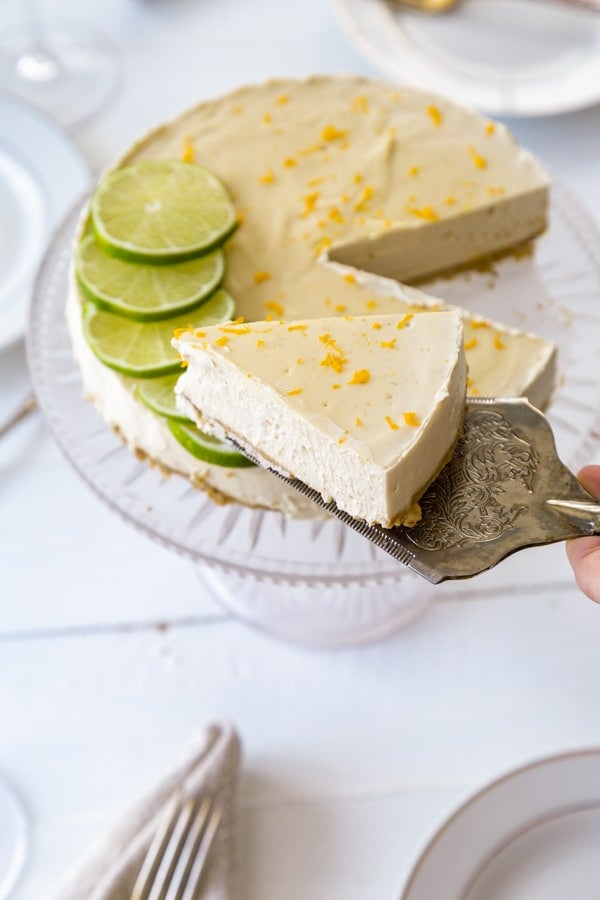 This is a silky Vegan chocolate peanut butter pie. It's so incredibly simple to make. This pie filling requires just 3 main ingredients: peanut butter, chocolate, and silken tofu. We blend it up and it creates this beautiful, delicious, light and silky pie.
Vegan Cinnamon Coconut New York Style Cheesecake. This cheesecake is dairy-free, oil-free, gluten-free and to die for. It is creamy, rich, smooth and made with only 8 ingredients!
This Gluten-Free Vegan Peanut Butter Cup Cheesecake tastes like your favorite candy turned into a delightfully creamy vegan cheesecake. With a chocolate crust, creamy peanut butter filling, and chocolate ganache topping, you won't be able to have just one bite!
Look at this creamy, dreamy, baked cheesecake! Can you believe that this baby is 100% plants? Making a baked vegan cheesecake might sound like an impossible dream since the traditional version is made with lots of cream cheese and eggs, but we pulled it off and it's delicious
Smooth chocolate cheesecake blankets a rich and fudgy brownie crust, in this absolutely show-stopping chocolate brownie cheesecake recipe.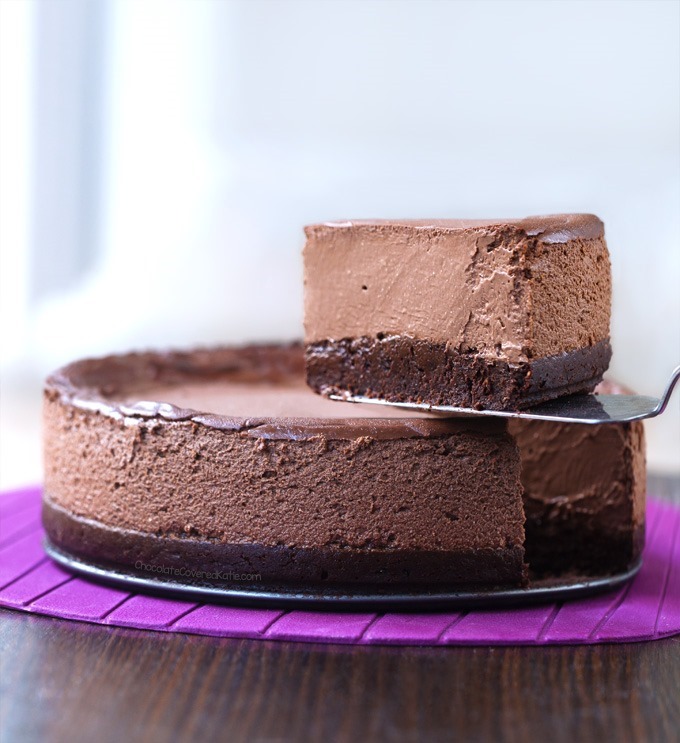 A classic vegan pumpkin cheesecake with whipped coconut cream. This vegan pumpkin cheesecake is the ideal blend between pumpkin pie and creamy cheesecake, but totally dairy-free! The perfect vegan Thanksgiving dessert, great for fall and Christmas, too.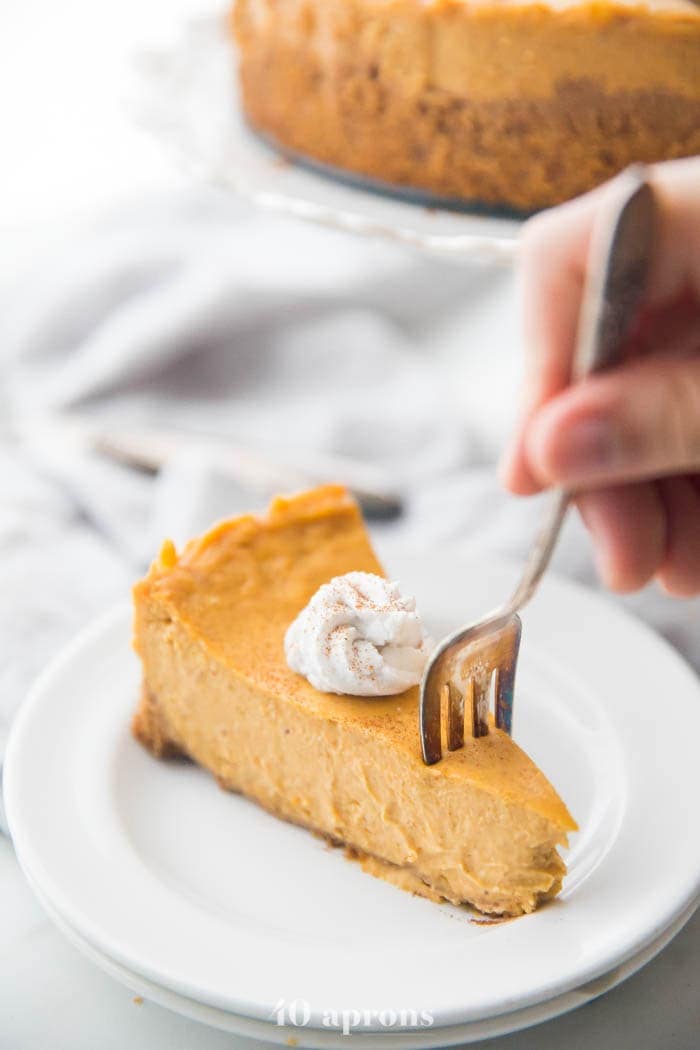 This gluten free and vegan strawberry cheesecake is an absolute dream with the strawberry sauce and oat crumble on top. It is no bake, easy to make, vegan and absolutely delicious.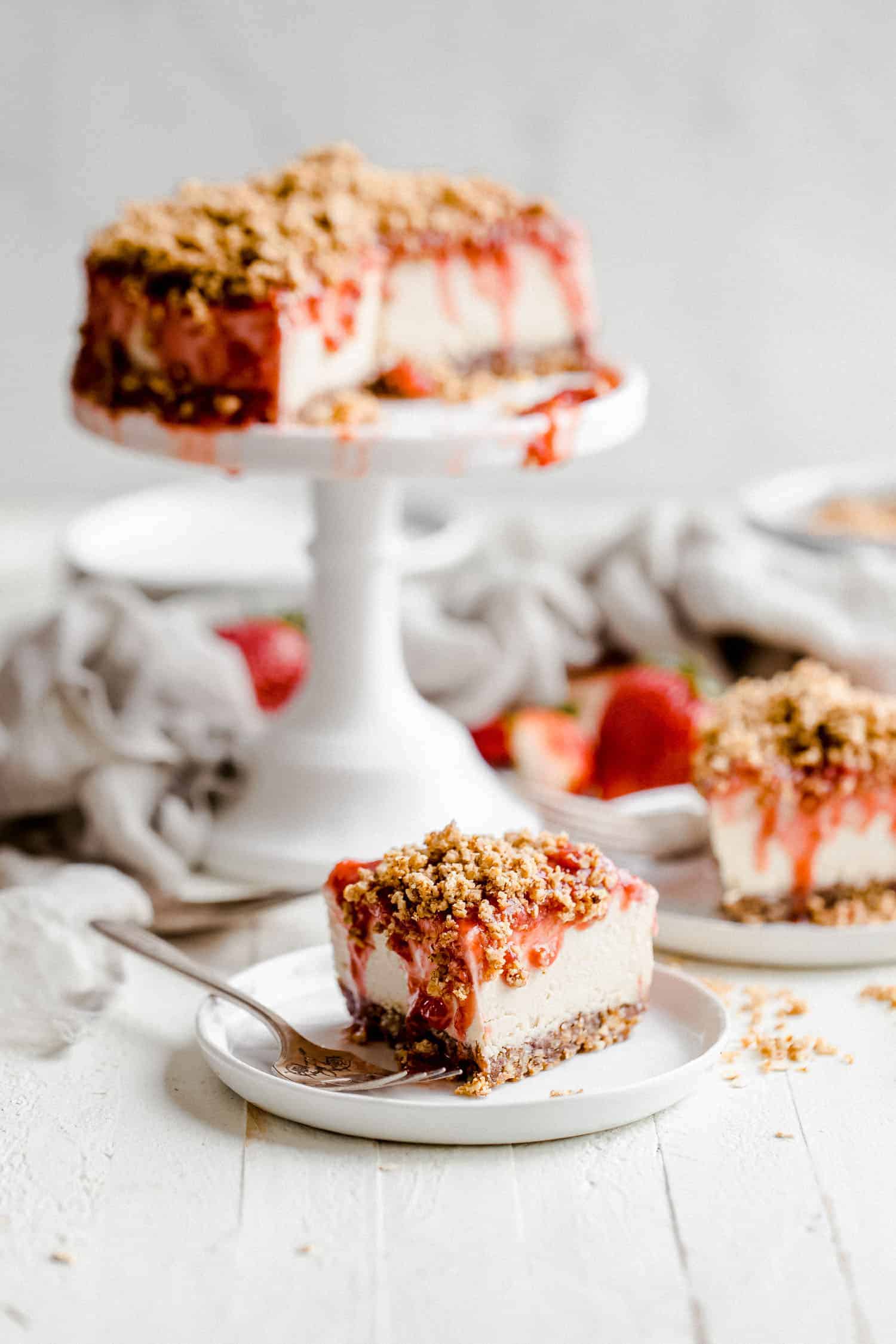 Vegan cheesecake recipes have come a long way from being a mere afterthought. Whether you're vegan or not, we can all agree that these delicious, dreamy desserts are a must-try. From classic New York style varieties to savory, creative combinations, there is an impressive range of recipes to choose from.
So don't wait, go ahead and treat yourself to one of these unbelievably delicious vegan cheesecakes! As the old saying goes, "Life is too short not to enjoy the good things." So dive into these 20 dreamy vegan cheesecakes and make every single day a sweet one.
Cheesecake me!!
Try these  Best Chocolate Peanut Butter Bars for a quick and easy treat!!
More Vegan Recipe Roundups!





Amazon and the Amazon logo are trademarks of Amazon.com, Inc, or its affiliates.